C Ilumina Complex Serum
Regular price

Sale price

$129.00
Smart Radiance
A powerful Vitamin C antioxidant serum with Algae Extract, Ferulic Acid plus Vitamins B,E. Regular use results in a more firmer, plumper skin with diminished visible lines and a healthy radiant glow! Especially formulated for mature skin
Benefits
Antioxidants to help support the skin against damage caused by environmental stressors, minimize fine lines and wrinkles promoting a more hydrated even skin tone.
Skin Type
Suitable for all skin types in particular for mature dehydrated skin. Not recommended for compromise or broken skin.Text descriptions
Size
30ml
Key ingredients

Ascorbic Acid 15% (Vitamin C): Sits Assists in brightening , decrease the appearance of fine lines and wrinkles.
Algae Extract (PEPHA AGE Scenedesmus Rubescens): Stimulates the skin natural defence against UV, Blue Light, promotes collagen and a more even skin tone.
Ferulic Acid : Fights free radicals while boosting the efficacy of Vitamin C.
Vitamin B3 (Niacinamide) : diminishes dullness and tones skin.
How to use

Apply two drops to the entire face. Apply an additional application if necessary to the neck and chest. Allow drying for 1 minute before using any other topicals. Apply to clean skin once a day.
This product is potent and can cause some irritation for people with sensitive skin. If your skin is sensitive, you can mix it in your hands with another serum-like Hydra Cell Face Oil Serum to reduce the concentration until your skin becomes accustomed to the product. Then increase to full strength. We recommend with sensitive skin use our C Recovery Cream before C Ilumina Complex Serum.
Ingredients

Aqua (Water), Ethoxydiglycol, Ascorbic Acid, Propylene Glycol, Glycerin, Scenedesmus Rubescens Extract, laureth-23, Triethanolamine, Tocopherol, Ferulic Acid, Panthenol, Sodium Hyaluronate, sodium PCA, Niacinamide, Phenoxyethanol, Ethylhexylglycerin, Pentylene glycol.* Ingredients are subject to change, please ferer to your product packaging listing. We strive to keep all ingredients listing as accurate as possible.
Shipping information

Enjoy free delivery on all orders in Australia. Orders are dispatched within 2 business days and delivery times are estimated at 3 to 7 business days, depending on your location. You will receive an email notification with tracking number.
Share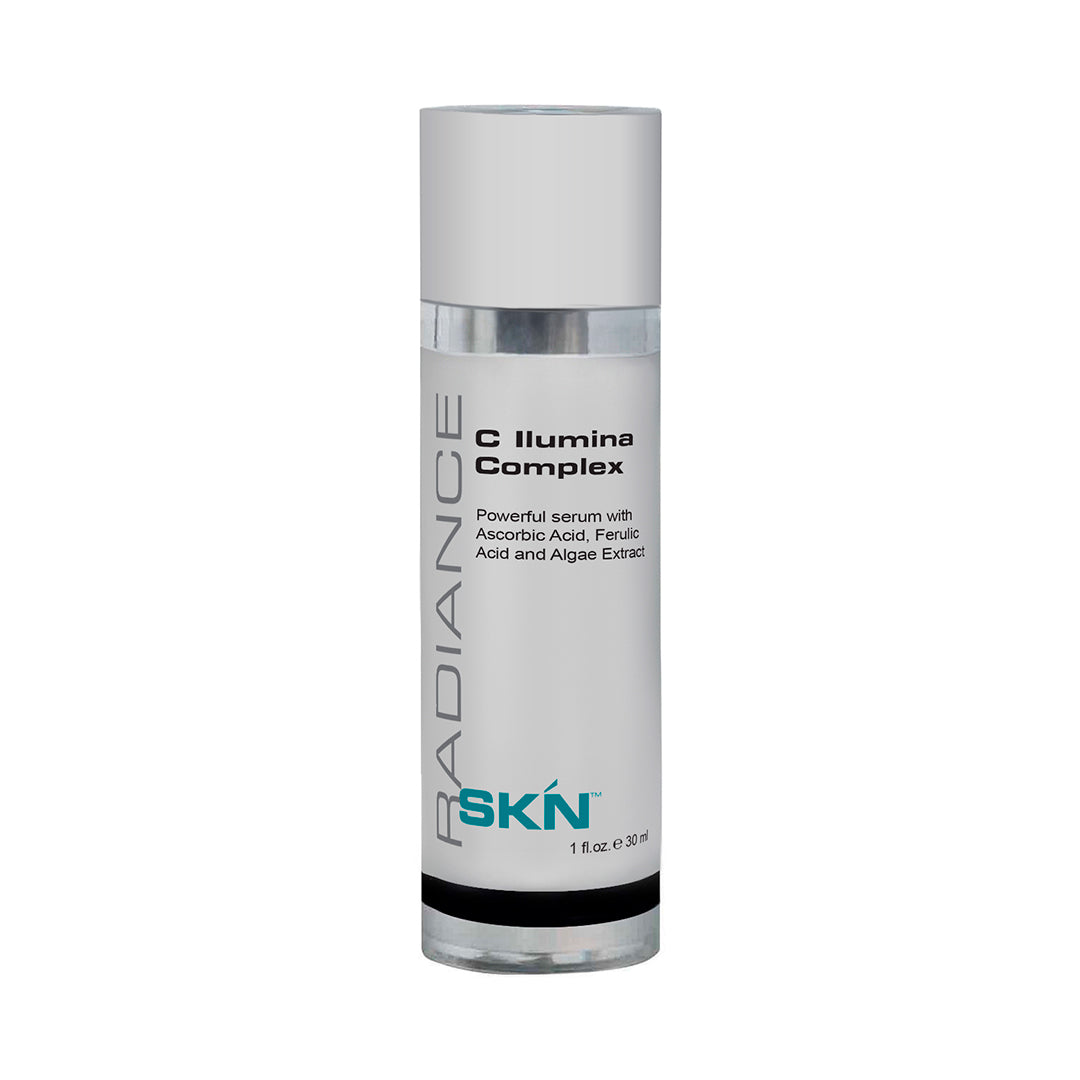 Love this Serum!
Absolutely love this serum! I work on the computer all the time and the blue light defence is awesome. Also love the addition of vitamin C which is gentle on my skin

Testimonials
I spend a lot of time out in the open and on the water the C Recovery Cream is the most effective moisturizing and rejuvenating cream that. I really think the cream is helping to reduce the damage from the outdoor life and my skin feels fresh with a good moist texture throughout the day.

Amanda, from Cairns, QLD
My favourite moisturisers, I can't live a day without my Vitamin C Recovery Moisturiser and Essential Zinc Tinted Moisturiser from SKNtech. Combined with their vitamin C serum, this is all you need to feel beautiful every morning.

Ailyn C, from Perth, WA.
Just wanted to say how happy I am with the SKN Radiance products and the professional service and advice provided to me about the range and its suitability on my very sensitive skin. Thanks for all the assistance Rosa from SKNtech.

Marina Spark, SKNtech Ambassador
I can't express how grateful I am for the incredible SKN Radiance products and the expert guidance provided by the team. My sensitive skin has never looked better! Special thanks to Rosa from SKNtech for her exceptional support and knowledge

Aisha B, from Sydney, NSW, Australia
I am thrilled with the results I've seen using the SKN Radiance products. The personalized advice and attentive service from SKNtech made all the difference for my sensitive skin. A big shoutout to Rosa for her invaluable help throughout my skincare journey.

Leo M, from Melbourne, VIC, Australia
Love this Serum!
Absolutely love this serum! I work on the computer all the time and the blue light defence is awesome. Also love the addition of vitamin C which is gentle on my skin